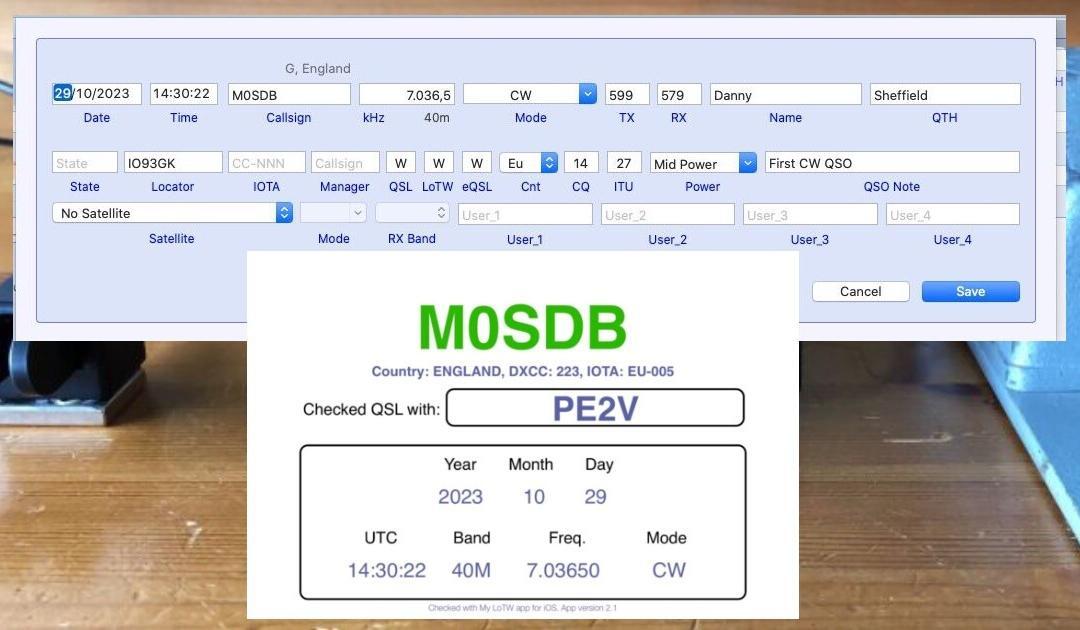 Afgelopen week werd ik door mijn CWops advisor / mentor Daniel (Danny) M0SDB publiekelijk via Facebook groep "Slow Morse Club" uitgedaagd om de eerste CW verbinding met hem te maken dit weekend. Na alle moed bijeen geschraapt te hebben ging ik vol goede moed naar de shack op zaterdagmiddag. Ik hoorde Daniel roepen op 20 meter dus schreef snel even een QSO uit op papier zodat ik niet teveel hoefde te denken. Helaas ging hij op dat moment QRT en ging het feest niet door. Afgesproken dat we de herkansing op zondag zouden doen.
Zondagmiddag wilde ik net naar de shack gaan toen Daniel al appte of ik er klaar voor was. Hoezo dwang haha. Een poging op 20 meter mislukte waarna we QSY zijn gegaan naar 40 meter. Daniel seinde QRL waarop ik reageerde met M0SDB de PE2V KN
We hebben vervolgens het QSO volledig afgemaakt inclusief het uitwisselen van rapport, naam en QTH. Ook de felicitatie van Daniel aan mij kwam met flarden over:

Ik kon niet alles nemen maar toch zeker 85%. Dus best prima voor een eerste keer vind ik. Wel ging het seinen slechter dan tijdens het oefenen. Net als bij muziekmaken, bij het voorspelen gaat het altijd vaker mis haha
Naast de officieel bevestiging via LoTW (Logbook of The World) ook nog een leuke felicitatie en lovende woorden op Facebook:

Dus al met al een erg leuke en ook goede ervaring. Want wat was ik zenuwachtig. En dat is natuurlijk absoluut niet nodig maarjah. Na het succesvol afsluiten van het eerste QSO kreeg ik knallende hoofdpijn. Zal toch iets van spanning hebben gezeten haha.
Om de vaart erin te houden heb ik van de Morse Code Ninja website geluidsbestanden gedownload en toegevoegd aan een podcast app. Deze kan ik mooi gaan luisteren als ik bijvoorbeeld met het hondje aan de wandel ben.
En ondertussen is het tweede QSO ook al een feit. Dit ging wat moeizamer. Ik kon de Call en het rapport prima nemen alleen de rest was lastig omdat ik twijfelde en begon na te denken over zijn call. Het klonk wat raar. Later bleek dat ook wel. Zijn call is niet G0II (g0ii) maar G0IIK (g0iik). Nummer 2 in het log!
Hello Vincent,

Eyes we did have a qso today, and yes my callsign is G0IIK. Please do not worry about it as it a common problem for as the K is also a sign to pass the the key to the other station and happens to me many times.

Many thanks for the qso, I hope we have many more. Good luck with CW it is a great mode and good fun!

Kind regards Vincent. Nigel. G0IIK. 73